Used Boats:
19
Adverts Displaying:
1
-
10
Ideal as a small tender. Approximately 2.8 metres long. Has had a couple of professionally done repairs and still holds pressure. Glass fibre thwart. Inflatable floor and inflatable keel. Evinrude 2hp 2 stroke engine, starts easily. Appears low hours. Video of it running is available upon request....
read more
Length:
2.80m
Location:
Gloucestershire UK
Price:
£490

View Details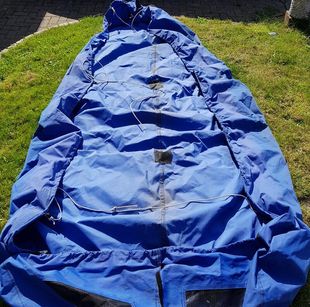 RS Feva Undercover £75 for quick sale vs £189 new! Heavy duty PVC undercover, made specifically for the RS Feva. Condition 7/10, has a couple of small patch repairs, professionally done and minor snags - see the photos for details. Collection from Somerset, or can arrange delivery at cost....
read more
Secondhand Launching Trolley made by Hayling Trailers In good condition - recently re-welded professionally at the join between the handle and the main frame Wheels in good condition with no cracking Length from snubber nose to cradle 2.66m; width between wheels 1.2m; suitable for a boat length 4-4.5m...
read more
Length:
2.66m
Location:
Gloucestershire UK
Price:
£90

View Details
Enterprise mast made by Proctors complete - all rigging preset and in good working order mast is straight with no corrosion ready to use collection only from Lydney - delivery not possible on carrier £95...
read more
Length:
12'
Location:
Gloucestershire UK
Price:
£95

View Details
Two Mk11 GRP Wayfarers - built by Moores. Sail numbers 9456 & 9457 In true good condition for their age. The wooden seats, centreboard and rudder are in really good condition - recently well varnished. Spars are in good condition. Good launching trolley with jockey wheel. These are ideal training boats or cruising. They do not have spinnakers or any fittings for spinnakers. Completely ready to use. Sails have seen good use but are not damaged and have plenty of life for training. No road trailer at advertised price but can help with delivery POA. £995 each without covers or ...
read more
Length:
20'
Location:
Gloucestershire UK
Price:
£995

View Details
An FRP Holt built Enterprise 22363 Well fitted out - complete and ready to sail Sails by Speed - adequate for club racing Spars by Superspar in good condition Wooden foils in good condition Good launching trolley Adequate top cover Would make a great club training boat or a first family boat. No road trailer - but could be delivered POA alot of boat for the price!...
read more
Length:
12'
Location:
Gloucestershire UK
Price:
£795

View Details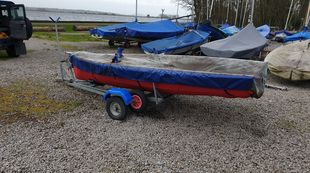 Sail Number 1476 This is a lovely example of a ready to race boat. Only 2 owners always sailed at Bristol CYC and has been looked after with impeccable care by them. Very little use in last 3 years, on water 3 times last year hence reason for selling. It has been stored outside with its top cover on which is in OK condition. As you can see the under cover is in brilliant condition and has had very minimal use. It also comes with- + 1 Suit of old style Sails- Main, Jib and Kite all in 810 condition. + Cradle launching trolley and Snipe road base. Road base has only travelled under 500 m...
read more
Length:
4'
Location:
Gloucestershire UK
Price:
£5,850

View Details
RS200 / 400 centreboard in really true great condition, never fitted to a boat. No brake fitting or retaining plate. Brand new £431 - sale price £260...
read more
Length:
2'
Location:
Gloucestershire UK
Price:
£260

View Details
Laser 2000 Rudder Blade £195 Laser 2000 rudder blade Great, perfect condition – don't think it has ever been fitted to a rudder stock New price is £311 – get a bargain for £195...
read more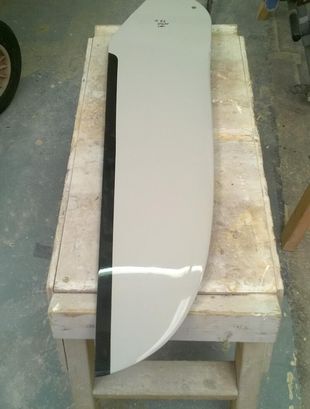 RS short Aero style rudder blade for post 1600 numbered RS200s in near perfect condition still with bulb at the very bottom Brand new these are £333 - this one is a bargain at £195...
read more
Length:
2'
Location:
Gloucestershire UK
Price:
£195

View Details